Seminars, workshops, and forums are being finalized as we speak. We are getting descriptions, dates and times, and costs together. The Artist Weekend pass will get you into the daily discussion panels, and into a critique session. Many of these seminars have a separate fee. Seminar registration will be up in early Feb.
Here is what we have planned for you so far:
Keynote Speech:
Jeff Gogue
Seminars by:
Chet Zar
Joe Capobianco
Lie, Cheat & Steal - $150
This seminar will touch on basic tattooing skills and sketching techniques such as how to utilize references, how to draw a sketch, and basic rotary machine techniques.
Crayola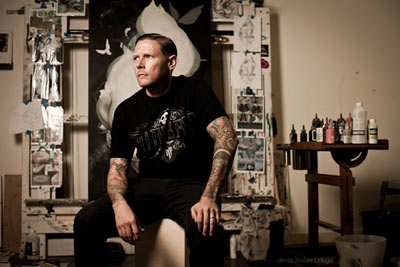 Taking An Idea From A Sketch to A Finished Acrylic Painting with Greg "Craola" Simkins - $175
Join Greg as he shares with you the techniques he's been honing over his years as an artist. For many of us, there's nothing more fulfilling than taking that initial spark of creativity that comes out of a sketch and reworking it into a finished piece of art. In this seminar, you will learn various ways of preparing the proper surface, sizing and transferring your sketch, the proper tools, under painting, glazing and finally varnishing your piece. Limit 30.
Tommy Lee Wendtner

CONCEPTS OF HELL - $225
The Techniques of Tommy Lee Wendtner- In the first part of this five to six hour long Seminar, Tommy Lee will explain how he approaches his designs beforehand tattooing. He'll also explain the basic rules of creature Design and how to use modern technology, i.e. Photoshop, to prepare for bigger tattoo projects. The second part consists purely of his tattooing techniques. He'll explain why he uses which Materials(Needles, Inks, Machines...). The main part and highlight will be a live tattoo session, which will be projected on to a screen via beamer. So every participating artist is able to see exactly every step of the progress. Tommy Lee will also document the whole process verbally. In the end, there will be a Q & A to give everyone the chance to get the answer to his/her personal questions! IMPORTANT: Every participant should bring his/her prefered sketching material(Sketchbook and pencils)
Bob Tyrrell & Shane ONeill
Black and Grey Tattooing - $225
Want to get your realistic black and grey tattooing game on? Bob Tyrrell and Shane ONeill will be presenting a split seminar. From the horses mouth: "Portraits and Black and Gray Techniques. Covers all aspects of doing a black and gray portrait. And maybe some color tips from Shane!"
Nick Baxter
The Holistic Approach: Strategies and Techniques For Advanced Tattooing - $200
In this seminar, tattooist and painter Nick Baxter will explore the mental and creative preparation he utilizes in his tattooing approach, especially for involved multi-session projects. However, rather than present a "how to tattoo like I do" answer, Nick will instead emphasize the skills needed for every tattooer to find his or her own unique tattooing strategy. In this broad "holistic" approach to the tattoo process, departures will be made from rigid "tattoo rules" in order to encourage creative "outside the box" thinking. Some advanced techniques such as layering will be explained, so this seminar will be of most benefit to more experienced tattooers, who already understand basic tattooing skills and techniques
Shawn Barber - $200
Workhorse Irons
Build Your Own Tattoo Machine Workshop from SOBA and Pulse Intl. - $400
Due to popular demand, we will be offering TWO workshops this year. One Saturday, and one Sunday. (Insert times here - We take up 4 hours)
*Build your own machine from scratch! We will supply all the parts and take you step by step through the entire process of machine assembly.
*Tuning Seminar! As we go along, we will be discussing in depth the secrets to making your machines hummm all day long, all day strong.
*Goody Bag! Lots of swag from Pulse Intl and Workhorse Irons.
-All tools and supplies will be provided for you, however- its a good idea to bring along any "go to" tools you've acquired for machine maintenance. Extras and variety always come in handy.
-Bring something to take notes. We dump a TON of information on you, and you won't want to forget any of it!
-You will be able to choose from a selection of frames TBA as the date gets closer.
BJ Betts
Lettering
Lettering remains one of the most important tools in a tattooist's armory. It's an artform in itself and one that can elevate an artist's entire repertoire. As personalized script becomes increasingly popular and increasingly prominent, the ability to execute it with precision is essential.
In this seminar, owner of Delaware's Trademark Tattoo Gallery and Pennsylvania's State Street Tattoo Gallery, BJ Betts — an authority in letterforms, fonts and script who literally wrote the book (and its three sequels) on the topic — is on hand to talk technique and teach the methods that will improve your lettering. With 15 years of tattooing experience, BJ knows the importance of the written word as a standalone or accompaniment to an artist's output.
Covering font structure, spacing, layout and design, the aim is to educate and inspire each attendee, providing the tuition to build on existing abilities and hone your own styles. Bad script ruins potentially great work — this is a great opportunity to go beyond the fundamentals for a deeper understanding.
Bez
Tattooing with Technology
Bez will be showing how the use of computers can help to plan and visualize the layout and preparation of tattoo. Through the use of some low cost software you will be taken from concept to 3d visualization to a finished line drawing. You will receive a copy of all the templates, files and 3d models used in the demonstration.
Gunnar
"The Artistic Process Before Creating Finalized Art" - $125
Sketching is a fundamental part of the layout process for most artistic mediums!
This course will cover the drawing process from start to finish. Gunnar will discuss ways to loosen up the sketching process to help add motion to stiff drawings and develop multiple ideas quickly. He will cover illustrating images with multiple subject matter and putting meaning to these images. He will discuss illustrating ideas from writings (songs, poetry, etc) and discuss how to use reference, as well as imagination to create original art even for artists that work strictly in realism. Gunnar will also cover how to develop a quick color study. From sketch to final drawing, no part of the artistic process will be skipped.
Course Length: 2 hours
Robert Ryan
TATTOOING AS THE ICONOGRAPHIC CORPSE ALTER - $108 (+$25 registration)
A) A basic deconstruction of power totems and icons
B) Symbolism and its relation to our craft - Past, Present and Future
C) Maintaining Spirit and Energy in a commercial trade
D) The Alchemy of Tattooing and Painting - A brief history of the alchemic approach in art and how it relates to tattooing in the now.
Larry Brogan
101 tattoo tips that can change your career forever - $150
Larry Brogan will be offering a seminar based on his 21 years of tattoo knowledge and experience. He has owned and operated one of the Midwest's busiest shops for over 16 years and has traveled to countless tattoo conventions doing as many as 21 in a single year. His work has been published world wide and his list of awards runs on forever. The seminar will cover all aspects of the business including tips on running a shop, traveling to conventions, dealing with airports and foreign countries, getting your tattoos published, advertising, Internet exposure and a ton of little tips and tricks that will make your tattooing easier and more enjoyable. Larry will discus equipment troubleshooting tricks, stencil making and application tricks, laying out large scale tattoos and many more helpful bits of knowledge he has picked up over the past two decades in the tattoo industry.
This is in no way a "how to tattoo class" but a how to get the most out of your tattoo career on a daily basis by increasing productivity and profit and increasing your artworks exposure in the industry. All artists of any skill level can and will benefit from this wealth of knowledge. A 45 page booklet will be handed out that will be part of an upcoming book Larry is writing covering all the above information and much more.
This seminar offers the widest range of knowledge and information available and gives you a ton of helpful tips that you can apply to your tattoo career immediately.
Seminar cost is $150 per person and will run approximately 3 hours.
Alex De Pase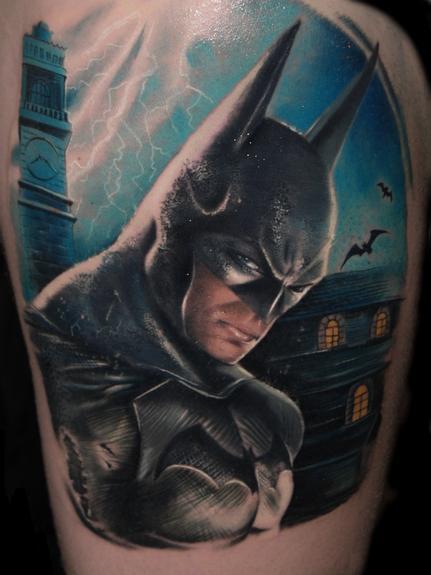 Behind Color Realism - $175
During this seminar Alex De Pase will talk about realistic tattoos and portraits in color. In detail he'll talk about the right way to approach a realistic tattoo, how to choose the better picture and analyze its volumes, lights and details. He'll also talk about mixing colors to obtain the right skintone. Long story short he'll give you all the tips and tricks that you will ever need to achieve that realistic result.
Chris Dingwell
Painting without Fear! - $120
Always wanted to start painting, but you are "AFRAID?"
Tried it, but got frustrated and gave up?
Painted for years, but want to try something different?
Whatever your level or experience with painting, this extensive, interactive seminar is for you....
3 Hours Long; Seating in UNLIMITED! Price is $120
I will be starting with a SHORT but thorough slide show, just to establish some background for my work, and then I will spend most of the time beginning a painting of my own from scratch! As I paint, I will discuss my process and materials to some extent, but my paintings are not about elaborately involved techniques; they are actually very simple. ANYONE CAN DO THIS! It's just about pouring your heart into your work and allowing that to be your guide. I will show you briefly how I create my idea and layout, then follow with a lot of underpainting, building up to the final result. I am scheduling the seminar early because I will be continuing to work on the painting through the remainder of the weekend; hopefully completing it before the close of the show on Sunday. This will allow anyone attending for the entire weekend to follow the painting's progress and see the final result. I have an extensive list of online resources with links to materials and technique tutorials that will be given to each participant, providing every one of you with an almost limitless expanse of painting know-how!
Mario Rosenau - Photography for Tattooers
Rob the Accountant

What you need to know about being in compliance with the IRS & the State - $20 at the door
Sole Proprietor, LLC S-Corp, C-Corp, what are they and what should I be?
How do I get a Federal and a State ID?
Why do I need a state ID?
Employee or Contract Labor and 1099's. What goes into having employees
What's deductible and what isn't?
Types of documentation to survive an audit
Preparing for retirement
Teacher: Rob Matfess has been a Certified Public Accountant in Connecticut for over 20 years and who also owns Body Graphics Tattoo, Inc. in South Windsor, Connecticut for over 10 years. His clients not only include the artists at Body Graphics but those of other shops and artists in Massachusetts and Vermont.
Kim Lee Ripley - Seminars for the kids.
TattooNOW
High traffic websites for tattooers. - Free
TattooNOW has been building high traffic websites for tattooers for over a decade, growing steadily while other tattoos sites and social networks come and go. TattooNOW's amazing client list includes the likes of Guy Aitchison, Bob Tyrrell, Nick Baxter, Jeff Gogue, Mike Devries, Shane ONeill, Oleg Turyanskiy, Mike Cole, and over 80 more artists. The traffic we get from TattooNOW has powered the startup and success of our studio Off the Map Tattoo, which hosts over 40 international guest tattooers a year, and indeed, this event, the Paradise Tattoo Gathering. The TattooNOW server attracts well over 2 million unique tattoo fans a month, want to find out how you can cash in on this oppertunity?
In this seminar you will learn how we use the internet and computers to attract the right traffic from the search engines to our websites, deliver the vital information the visitors are looking for quickly, and turn this traffic into perfect clients. With more than 10 years experience building clienteles for tattooers, we know how to structure and update websites for Search Engine Optimization and client building. All attendees of this seminar will receive a free 30 day trail membership to TattooNOW's community website. In addition our staff will walk you through the user friendly and quick process for uploading search engine friendly images into the TattooNOW galleries. Learn how to drive new customers to your studio and how having a well marketed website with TattooNOW can make a difference! This seminar can also be helpful to current clients of TattooNOW, as well as new artists interested in trying it out.
Bring a USB jump drive with some images of your tattoos, and walk away with a FREE 30 DAY TRIAL MEMBERSHIP with TattooNOW without paying a dime! Website specials will be offered for deposits taken at Hell City. One lucky seminar attendee will win an advertising package worth $500!
---
The schedule is near complete, we just need to finalize details with the teachers. If you have a suggestion for future Gathering seminars, please email us!